Not perfect,

     Just forgiven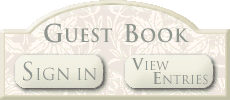 Comments?? 

Why not sign the guest book

or drop me an email?

I want to give credit where credit is due; however, alot of times graphics are passed around and I have no way of knowing who the original creator was.  If I have used something of yours and failed to give you credit, please contact me and I will be happy to acknowledge that on the page or remove it if you so request.  God's blessings always.

Father, we know that You are above all things and everything happens according to Your good and perfect plan for us when we look to You for our strength and guidance.  Lord, we thank You for giving Your Son so that we might have a right standing before you once again.  Lord, I ask that You bless each visitor to this site.  If there are those who visit who are still unsure about receiving Jesus as their personal savior, I pray that You will continue to place witnesses before them and draw them with Your Holy Spirit until they are ready to surrender their life to You.  I pray for those who have caused so many so much pain by their acts of hatred.  I know that it is Your good and perfect will that none be lost, so I pray that even our enemies might come to know Your saving grace before their time is through.  Create in them a new heart and let them begin to bring glory to Your name.  Father, be with those who are so afraid right now in our country and let them find the peace that passeth all understanding by reaching out to You and seeking comfort and rest in Your arms.  For all things we give You the glory, honor and praise.  In Jesus' name we pray.  Amen.

Hi Friend.. the Joy of the Lord to YOU !!

When I was working on this page, many things that are normally simple became difficult.  No doubt that satan hates it when the Lord leads us to do anything that might cause people to examine their hearts and make the decision to seek salvation through Jesus Christ.  But I felt that I could not put up the God Bless America page until this page was completed, so with the Lord's help I continued to work on this and not give up.  God has placed a burden on my heart to reach out to others in His name and offer encouragement and hope.   Someone out there is scared and afraid.. someone out there is lost and hurting.. someone out there feels alone and unloved.. someone out there is being deceived by false doctrine... someone out there is tired and weary.. someone out there wants to give up .. someone out there needs to read this.. someone out there needs Jesus. 

Man has a plan, God has a better one. God is merciful.  God is just.  God is faithful.  God is love. God is good.  God is in control.  We get what we don't deserve..  we don't get what we do deserve... that is God's mercy and grace.  Praise God for it !  Praise God for the gift of His Son.  Praise God for reaching out instead of drawing away.  Just Praise God period.

May God bless you abundantly above all that you can even think to hope for.

Love in Christ,

Sherry